Main power traffic solution
---
Standard crossroad application I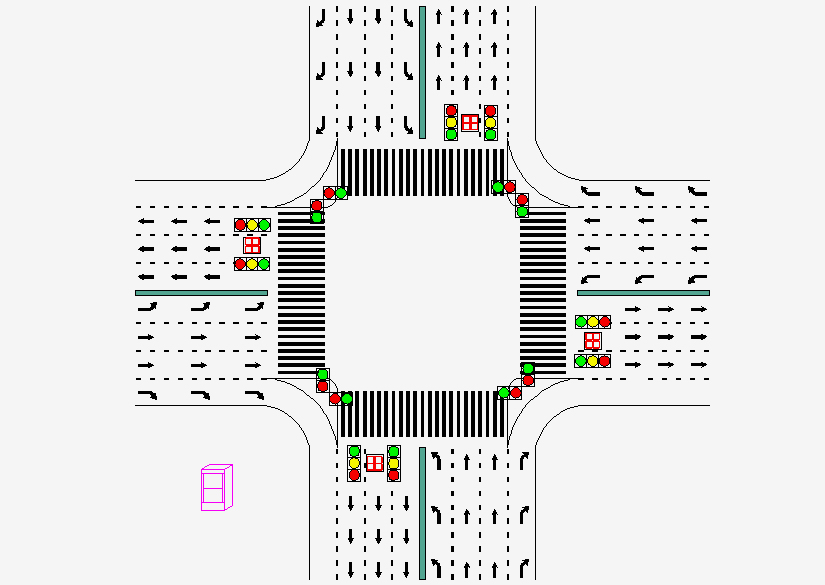 This Solution consists of straight lights, left-turn full ball traffic light, pedestrian and vehicle countdown timer (optional), this application is suitable for simple crossroads. The lamp can choose Noble 200mm, 300mm full ball or arrow light, you can choose the second generation controller or low voltage controller system.
Based on the above, vehicle loop detectors and pedestrian crossing buttons can be added to it and make the following intersection:
Standard crossroad application II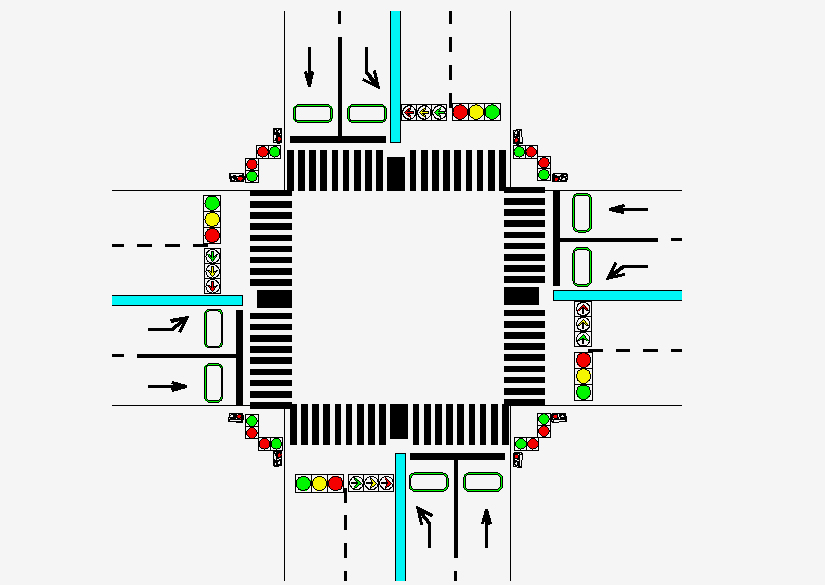 This solution is applicable to intersections that require vehicle detectors and pedestrian crossing buttons, both of which are optional, including pedestrian crossing buttons and vehicle detectors.The model can be selected according to the following table, the vehicle detector can choose the wired loop detector or the Noble OPTO video car detector. With the use of floor and pedestrian crossing buttons. The intersection can be allowed to be automatically adjusted according to the traffic flow to improve the traffic efficiency of the intersection.
Crossroads traffic control system junction display
Case number one Configuration of main power crossroads traffic light system in crossroad (4 directions):
| No. | Product Picture | Model No. | Model Name | Quantity (pcs) |
| --- | --- | --- | --- | --- |
| 1 | | NBJD313F-3 | 300mm led traffic light | 8 |
| 2 | | NBRX312F-2 | 300mm pedestrian traffic light | 8 |
| 3 | | NBDJS512-RYG | 500mm Traffic Countdown Timer | 4 |
| 4 | | NBTSC-200 | Traffic controller | 1 |
| 5 | | NBCB | cabinet | 1 |
Case number one Configuration of main power crossroads traffic light system in crossroad (4 directions):
| No. | Product Picture | Model No. | Model Name | Quantity (pcs) |
| --- | --- | --- | --- | --- |
| 1 | | NBFX313-3 | 300mm Left arrow traffic light | 4sets |
| 2 | | NBJD313-3 | 300mm led traffic light | 4sets |
| 3 | | NBFX313-3 | 300mm right arrow traffic light | 4sets |
| 4 | | NBRX312F-2 | 300mm pedestrian traffic light | 8sets |
| 5 | | NBW | Wire rod | 600 |
| 6 | | NBTCD-8 | Traffic camera detector | 4 |
| 7 | | NBTSC-200 | Traffic controller | 1set |
| 8 | | NBCB | cabinet | 1pcs |